HP1000 weather station Review HP1003
Full review coming soon - we are in the process of purchasing an HP1000 weather station for evaluation.
The HP1000 is the next newest weather station after the
WS3080 / WH3081
, featuring automatic uploading of weather data to Weather Underground (WXUG) via a WiFi internet connection. No computer or USB connection is required for the datalogging to occur. In fact, the device has no provisions for direct connection to a computer at all, so all long term data logging is via WXUG (or some other web service).
The HP1000 has a new backlit colour LCD screen. Because the console has a built-in WiFi interface and a microprocessor, it produces some amount of heat. Consequently, the indoor temperature and humidity sensors can no longer be located within the console, so a separate wireless indoor temperature/humidity sensor is supplied. The base station also requires an external power source, but the advantage is the backlight can stay lit constantly so it is easy to read. The backlight can also be set to dim or turn off at night.
The outdoor sensor suite is now integrated into one single unit, which is on the verge of copying the sensors made by Davis. As with previous flagship stations, the HP1000 has solar charging on its outdoor sensor suite, so you won't need to change the batteries too often.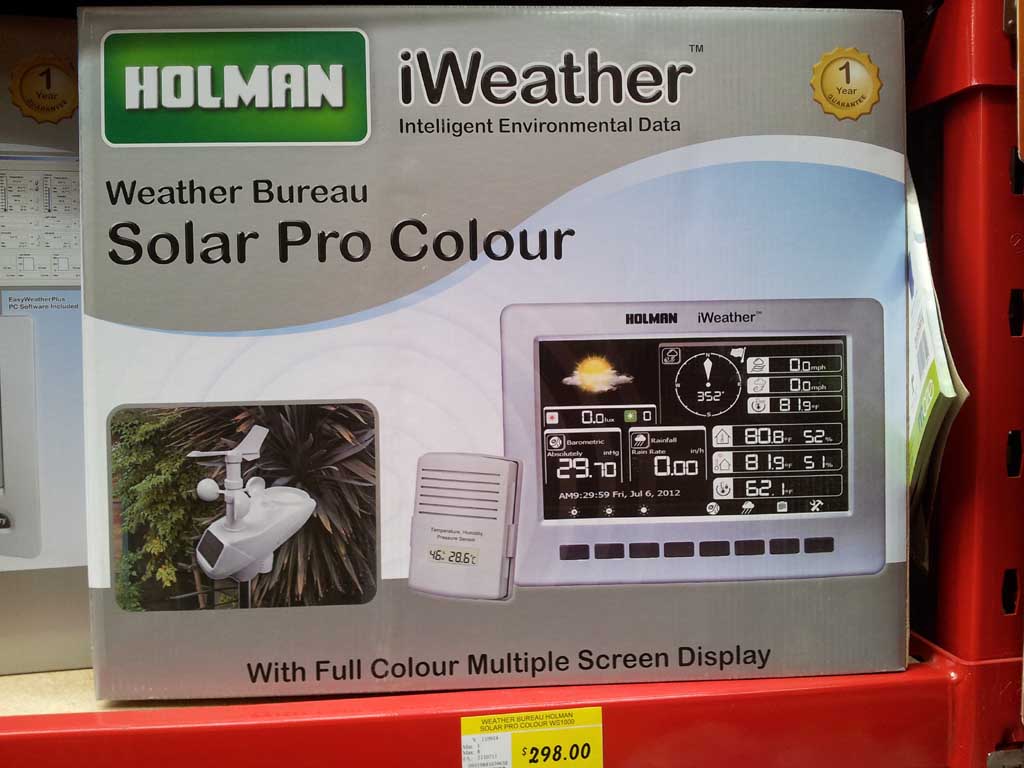 Update Jul 2014
Bunnings, an Australian hardware chain store, has started selling the Fine Offset HP1000 under the Holman brand. The re-branded model is designated as the iWeather - Weather Bureau Solar Pro Colour. It retails for AUS $299.00.